Customer service box
Corporate responsability promo box
Sports & Sponsorship main region box
OFFICIAL RECRUITMENT PARTNER

OF MANCHESTER CITY FC
Our partnership is based on a mutual ambition to attract skilled, expert professionals to build high performance teams, whether it is on the football pitch or in the world of work.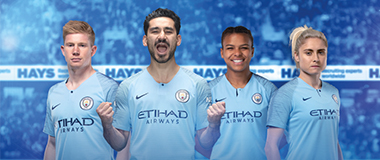 During the close collaboration with Manchester City, Hays explored the similarities between the world of work and the world of high-level sport in the men's and women's teams. This collaboration provided a good foundation for the partnership, with a strong focus on leadership, development, scouting and the ingredients needed to create a high performing team.
Federgon left hand box BE
Certified Membership
Hays continously strives to improve the quality of recruitment & selection services.
Hays Press promo box
Hays & Press
Hays frequently publishes studies on the evolution of the labour market.