How to prepare for a job interview through video-call?
How to prepare for a job interview through video-call?

Due to the fast growth of technology, video job interviews are becoming more and more frequent nowadays. So, it might be a good idea to be prepared for whenever your next job interview will be on Skype or FaceTime. We at Hays can help you with that!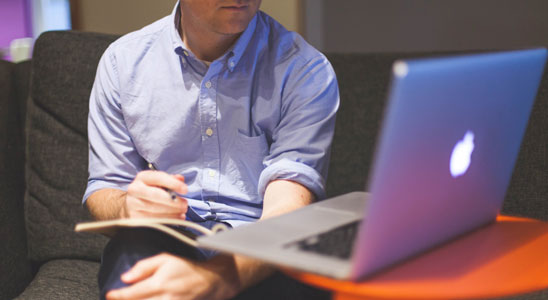 The rise of video chat platforms is affecting the way employers connect with job candidates in a positive way. This way of communication allows them to both contact candidates and meet them face-to-face without having to be in the same space physically, which can be a great asset for candidates with a limited mobility or few availabilities. However, these video interviews can also be challenging for job seekers. Some people might feel uncomfortable being on camera or unsure about their appearance or behaviour on video, while others might be more worried about the technological aspect of the interview. That is why we want to help you prepare and succeed by giving you some valuable tips.
Keep your surroundings in check
One of the most important tips for this kind of interview is to keep your surroundings clean, organised and interruption-free. Make sure to choose a quiet, private, and well-lit spot to do the interview, so avoid coffee shops and other public areas at all costs. The background noise would be too interrupting, which will negatively impact your performance.
Additionally, pick a room that is both clutter-free and well-lit. If you are doing the interview during the day, your best strategy is to sit opposite a window to benefit from the natural light. If you have to do the interview at night, because you have a fulltime job, for example, you should brighten up the room with additional floor or desk lamps. Right before the interview, you should do a test-run. That way you can see the quality of the lighting and adjust accordingly.
Dress to impress
Even though you will not meet the interviewer in person, you will still have to dress as you would for a normal job interview. The only exception to the typical professional clothing style you should aim for is that you should avoid stripes and plaid. These can be really distracting for the interviewer. Go for more solid coloured clothing, because it looks nicer on camera.
It could also be a good idea to read up on your future employer's dress code, because some companies are more casual than others. Wearing a suit and tie might not always be the right choice when the other employees are simply wearing a T-shirt and a jeans. So, make sure you don't overdress too much. Dressing a little bit above what's expected is usually the way to go.
A tech-check and a backup plan
Before you do the actual interview, you will want to check if all the technical equipment is functioning as it should. This means following several steps:

• Verify if your Internet speed is good enough to get a clear video connection. For that, you need at least 1 Mbps (Megabytes per second), which you can check in the settings section of your computer. If your connection isn't good enough, you might want to try switching from Wi-Fi to a wired Ethernet connection. That could help avoid unstable connection issues. If that does not do the trick, you might also want to consider going to another private space with a stable Wi-Fi connection.

• Check that the device that you want to use for the interview, be it a computer, telephone or tablet, is fully charged. You can also plug it into an outlet to let it charge while you are doing the interview. Just make sure that it is actually charging to avoid disconnecting in the middle of your conversation.

• Check your device's audio quality. If your computer has a lousy speaker system, you might need to wear headphones or buy an external microphone. If you are using a laptop, you might want to consider using headphones by default to avoid creating a reverb of your own voice.

• Test the camera and its quality. If it does not produce a high quality image, you might need to purchase an additional webcam.

• Get comfortable with the video platform that will be used in the interview. Be sure you know how to work with the video chat programme before you do the interview.

Even if you follow all of the steps above, there is still a possibility that you might encounter technical difficulties. So, make sure you provide your interviewer with your telephone number, in case the issues cannot be resolved.

Body language is still important
Just because you are not in the same physical space as the interviewer does not mean your body language isn't important in a video interview. Maintaining eye contact during a video-call might even be more important than in a face-to-face conversation. The camera angle can have a huge impact on the impression you make. When you are looking down or looking up when speaking, you might be considered untrustworthy. Make sure your camera is placed at eye level. Also, smiling when it is appropriate can help increase your likeability.
Aside from your body language, the way you use your voice is also extremely important. Studies have shown that the sound of your voice is up to six times more effective than the words you use in your interview. The aspects of your voice relating to expression are mainly the ones you need to focus on. So, speak at a slow pace, speak loud enough, but not too loud, use your intonation to accentuate certain words and be sure to articulate clearly.
Avoid making a cheat sheet
Although it might be a good idea to have a copy of your CV close by, just as you would during a normal interview, you should try to avoid creating any sort of cheat sheet. It could be tempting to prepare some common interview questions on paper, but merely having such a list in your vicinity is enough to trigger you to look at it. That can make you look unprofessional. So, it might be best to just prepare like you normally would and don't keep any written notes with you during the interview. You can, however, use your CV to look up information about your previous projects, but make sure to explicitly say what information you are looking for.
These tips should help you get ready for your video interview. If you need any tips for job interviews in general, check out the other articles on our
website
.
HaysSearchEntityForm Portlet