Benefits of using an expert recruiter

We thought it might be helpful for you to know how to maximise the benefits of using a recruiter. Of course it's our job to find the best person for each role, but by partnering with a specialist recruiter you will have an advocate who will promote your strengths and expertise to potential employers.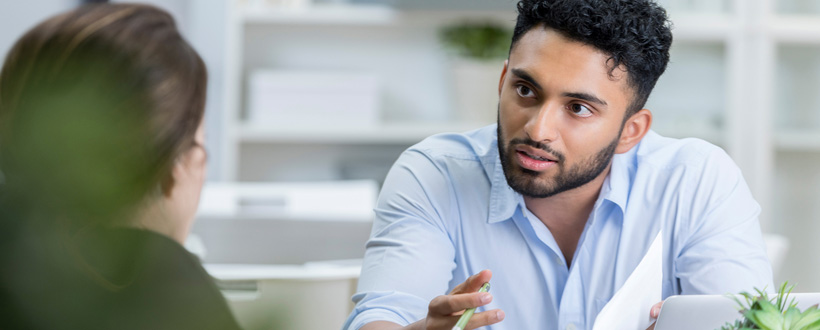 If you choose the right recruitment company, it can be the most effective way to find a new job. Here's why.
Benefits of a recruiter
We understand your jobs market
As a professional, you should only be looking for recruitment advice from an expert consultant who understands your profession and the sector you work in. A specialist recruiter will work within a specific sector such as accountancy or engineering for example.
Hays' recruiters will understand the special terminology of your industry, how your particular job works and where your skills are most suited for your next career move.
We will also be able to advise you on your salary level against the market value.
We can improve your CV
Our expert consultants view hundreds, sometimes thousands of CVs in a week, so they know what makes a good CV. If you're being matched with a job you are interested in, you will come in to meet someone who will be able to advise you on ways to improve your CV.
We make you aware of the social media pitfalls and opportunities
We understand the importance of social media in your job search and can advise you on your personal brand and online profile so that you can make a good impression on a prospective employer.
In addition, our unique relationship with LinkedIn gives us a better understanding than any other recruiter on how to make your LinkedIn profile as searchable as possible.
We can act as your agent
One of the most valuable aspects of working with a recruitment consultant is that they can represent you with the companies you are interested in working with.
If you're applying directly and you have something unusual in your CV, it can be hard to explain that to the prospective employer. Equally it's difficult to get across your professional appearance and personality in a CV. That's where a recruitment consultant comes in.
We have two-way contact with the hiring company because we have a relationship with them, so we will make a stronger case for you and get the feedback you might not be able to receive when applying independently.
Equally, we have the skills and experience to be able to sell you above the other candidates and upon offer, negotiate the best package on your behalf.
A common misconception amongst jobseekers is that we charge a fee to the candidate. The fee comes from the hiring company, only when they agree to hire the person they want. That fee is completely separate from your negotiated salary and companies are happy to pay a recruitment consultancy to find them the best people in the market.
We'll prepare you for interviews
Our consultants prepare candidates for interviews on a regular basis. We aim for a "win win" situation between candidate and company. It is our role to ensure we provide an impressive shortlist of candidates who meet the criteria the vacancy requires.
We know the hiring company and the hiring manager, so we'll be able to brief you on what the interviewer will be particularly interested in. We'll coach you on what to say and what not to say to impress the interviewing panel. We will give you feedback on your interview technique.
We can also provide you with advice on how to remedy any gaps in your industry knowledge.
Developing a partnership
We have to work as a team to able to get you that job you really want. So we both must have an understanding of the recruitment process.
Apply for a job
The job you apply for may have received hundreds of CVs. The consultant's job is to provide the very best candidate match to the job specification.
They are experts through training and years of experience of matching the right person with the right job. Of course there is a chance another candidate is more suitable for the job. The recruiter will give you honest feedback. If they think your skillset matches any other jobs they are managing, they will make you aware of those jobs as well.
Looking for a new job? Then download our free cv template of learn how to write a good cover letter.
block job zoeken alle onderwerpen