How to resign correctly and write a good resignation letter



Prepare your resignation
Once you have made the decision to change jobs, you need to write a resignation letter, to officially notify your employer. What you write in this letter will depend on the reason you're changing jobs. A resignation letter needs to have a date, recipient(s), a clear sentence stating that you're quitting your job, the start and end date of your notice period, your name and signature.

If you have a good relationship with your employer and you're leaving on good terms, you can add a few lines to thank them for the opportunities and good times together. However, you shouldn't mention any negative feelings or experiences in this letter. Keep in mind that the letter is an official document that will be archived. Do not use any words that can be used against you. You can ask to have a conversation about the more sensitive reasons why you're leaving the company, but don't put those in writing.

Handing in your resignation letter
In-person handover: give your resignation letter to your boss and have a duplicate copy signed for approval.
By bailiff's writ: just like when you hand in your resignation personally, your resignation is effective immediately.
Send a registered letter: keep in mind your resignation is effective on the third working day after posting your letter. Working days include Saturdays, send your letter before Thursday to make sure it arrives the same week.
Calculate your notice period
After resigning, you'll still have to work during your notice period. The first day of the month after your resignation was confirmed, is the beginning of your legal term of notice. Your notice period depends on different criteria, like salary and years of service.
Your contract started before 01.01.2014

The resignation period for seniority before 31.12.2013, is calculated based on the former legislation, valid on 31/12/2013.
If you earn less than € 32.254 a year, your notice period will be 6 weeks when you have less than 5 years of seniority. When you have over 5 years of seniority your notice period will be 12 weeks
If you earn between € 32.254 and € 64.508 a year, you will need to discuss your notice period with your boss. The maximum term of notice would be 18 weeks.
If you earn over € 64.508 a year, you will need to discuss your notice period with your boss. The maximum term of notice would be 24 weeks.
The second part of the resignation period will be calculated based on the seniority as from 1 Jan 2014, following the new legislation.

| | |
| --- | --- |
| Seniority | Resignation period for the employee |
| 0 < 3 months | 1 week |
| 3 < 6 months | 2 weeks |
| 6 < 9 months | 3 weeks |
| 9 < 12 months | 3 weeks |
| 12 < 15 months | 4 weeks |
| 15 < 18 months | 4 weeks |
| 18 < 21 months | 5 weeks |
| 21 < 24 months | 5 weeks |
| 2 < 3 years | 6 weeks |
| 3 < 4 years | 6 weeks |
| 4 < 5 years | 7 weeks |
| 5 < 6 years | 9 weeks |
| 6 < 7 years | 10 weeks |
| 7 < 8 years | 12 weeks |
| > 8 years | 13 weeks |
Add the two results to calculate the total duration of your resignation period.
Your contract started after 01.01.2014
For new contracts starting from 01.01.2014, the resignation period needs to be calculated following the new legislation.
Help – How do I tell my boss?
You've made the decision to resign and written your resignation letter to legally notify your employer of your choice (here you can download a resignation letter template).
Time to sit down with your boss and explain your decision. It's common to experience a mixture of emotions, with guilt usually being the first one. Next up are all the different questions you start asking yourself, like: "How will they treat me?", "What if they try to convince me to stay?", "What if they don't?", … You may feel sad about the friends and colleagues that you will leave behind.

Remind yourself that you're happy about your decision. The reality is, most people at some point in their lives, including your boss, have been in your situation. Despite the fact you may have been a valued member of the team, the company will not collapse without you. You are not the first person to resign and you won't be the last. There is never a 'right time' to resign. Just keep these following points in mind:
Keep it confidential - your boss will appreciate being the one to decide who else to tell, how and when to break the news to the entire company.
Find the right moment to talk to your boss – 5min. before a meeting is not the right time.
Be sure of your reasons for leaving - if necessary, rehearse them.
If you don't want to share where you're going next, you're perfectly within your rights to keep this to yourself.
Be prepared for negative reactions. Don't mind those comments, just make sure you communicate clearly.
Stay positive. Introduce the person who will be replacing you and help him/her to get started in your role. Remember you need those good references!
Keep in mind that you're resigning for a reason!

block solliciteren alle onderwerpen
More tips for job interviews
block NL podcast FR EN blog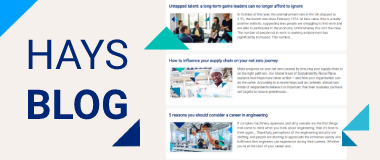 As a trusted partner for your organisation, our experts provide insight into the labour market, share news about recruitment and bring up quesions for discussion.