Emplois en Purchasing & Logistics
Purchasing & Logistics jobs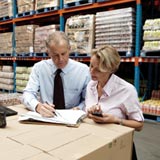 Our consultants are experts in recruiting for purchasing and logistics jobs. Both for temporary and permanent jobs, they can rely on their broad network and their knowledge of the professional market to introduce you to the right positions within purchasing or logistics.
Find purchasing & logistics jobs
Please find below some of our frequent opportunities:
Purchasor
Warehouse manager
Purchase assistant
Team leader maintenance
Or scroll through all purchasing & logistics jobs below.
View all 145 jobs