Unlock your company's potential with our Employer Branding Service
Unlock your company's potential with our Employer Branding Service

Navigate a complex recruitment landscape with our employer branding solutions. Discover how we can create a competitive advantage with an omnichannel strategy, enhancing access to business-critical skills and expertise.
Download more information about our Employer Branding Solutions service
Discover how we can help you upgrade your employer branding campaigns.
block NL podcast FR EN blog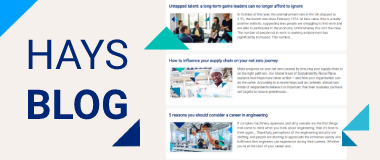 As a trusted partner for your organisation, our experts provide insight into the labour market, share news about recruitment and bring up quesions for discussion.
Salary Guide download box
Salary guides
The Hays salary guides provide a clear overview of current salaries and offer insights into market and recruitment trends.