Career academy 3 - article entretien félicitations
Meeting your recruiter

That's it, you decided to use the services of a recruitment agency. What can you expect from your consultant?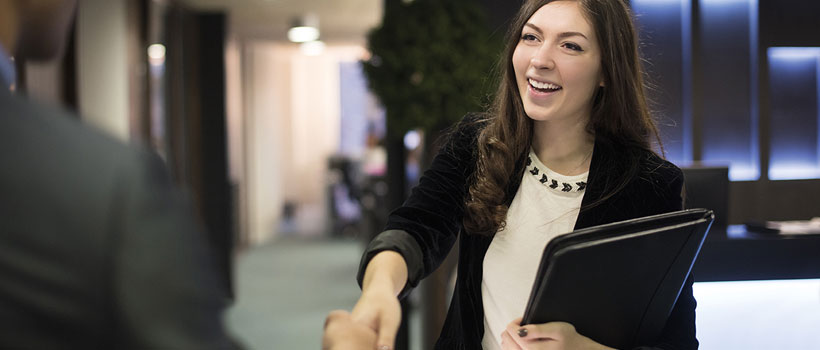 Follow-up Actions
If a recruiter feels you are a good match for a job they will ask you to come in for an interview with them. Some jobseekers do not see any value in meeting up with their recruitment consultant, but it is absolutely essential. Firstly, from a compliance perspective, we have to give hiring companies the peace of mind we have used our full selection process to put the best candidate in front of them. This means checking that you are who you say you are and that you've done what you said you did. Also, once we've met you, we will be able to make a stronger case for you with the hiring company. Not forgetting the value you'll receive from our feedback on your CV and your interview techniques. Also, you should want to meet the person who is representing you to your potential future employer!
Alerting you to other jobs
It is most likely that you will be meeting your recruitment consultant after applying for a job. However, there are occasions when we have other jobs on our database that match your skillset. So we will make you aware of those jobs and allow to decide if you should apply for them. We will never put your CV forward for a job without your approval.
It is our responsibility to ensure you have all of the information you need about the job to enable you to decide whether you are interested in it. Equally it is your responsibility to seriously consider the job option and give your honest reply, so no-one's time is wasted.
The next steps
If the hiring company reject your CV, we will let you know as soon as we know. Sometimes the hiring company can take a long time to respond, for a variety of reasons, but rest assured, we will inform you as soon as possible. In the interim we may alert you to other jobs that match your skillset. If the hiring company wants you to proceed to interview stage, that's great news and we will give you interview coaching specifically for that role. If you are not the successful candidate, we will give you feedback from the company as to why you were not selected, as soon as we receive it.
Equally, we would like you to give us any feedback you have after the interview. If you are offered the job, that's fabulous! We will negotiate to secure you the best package you are worth, without jeopardising the offer of employment. Working together we are there to guide and assist you and the better we understand your career objectives the more likely we are to be able to help you achieve them. Keep us informed as to which jobs appeal and which do not. Never go on an interview to make us happy - go on it because you are interested. If you are in a job, let us know how to contact you. Also advise us if you are nearing the final stage with another role.
Do let us know your honest salary and benefit expectations throughout the negotiation process so we can ensure there is no misunderstanding when we speak to employers. By building a trusting relationship with us, we can "tell your story" to potential companies, and will advise you of every role before your CV is submitted (unless you have agreed otherwise). You can be sure that your current employer will not find out about your job search through us. No reference check would be taken up with them until you advise us we are able to do so.
Above all, we are passionate about people and our enthusiasm compels us to match the right person to the right job. We want to be your recruiter, not just for your next job, but for your entire career. Imagine the benefits of working with the same recruiters and agency throughout your career? In order to find a relationship like this, you'll need to work with someone who genuinely cares about finding the right job for you and bringing you the whole way. We look forward to working with you to help you achieve your full potential.
Key ways to establish a good relationship
Do not take tough feedback personally
Only contact your recruiter with relevant information - they don't always have time to chat
Don't make contact until you are sure of your career goals
Understand that the screening process starts with your first contact
Be open-minded about the advice you receive
block solliciteren alle onderwerpen
More tips for job interviews